Barbara Wilkinson among the herbs on the Nursery delivering a fascinating insight into herbs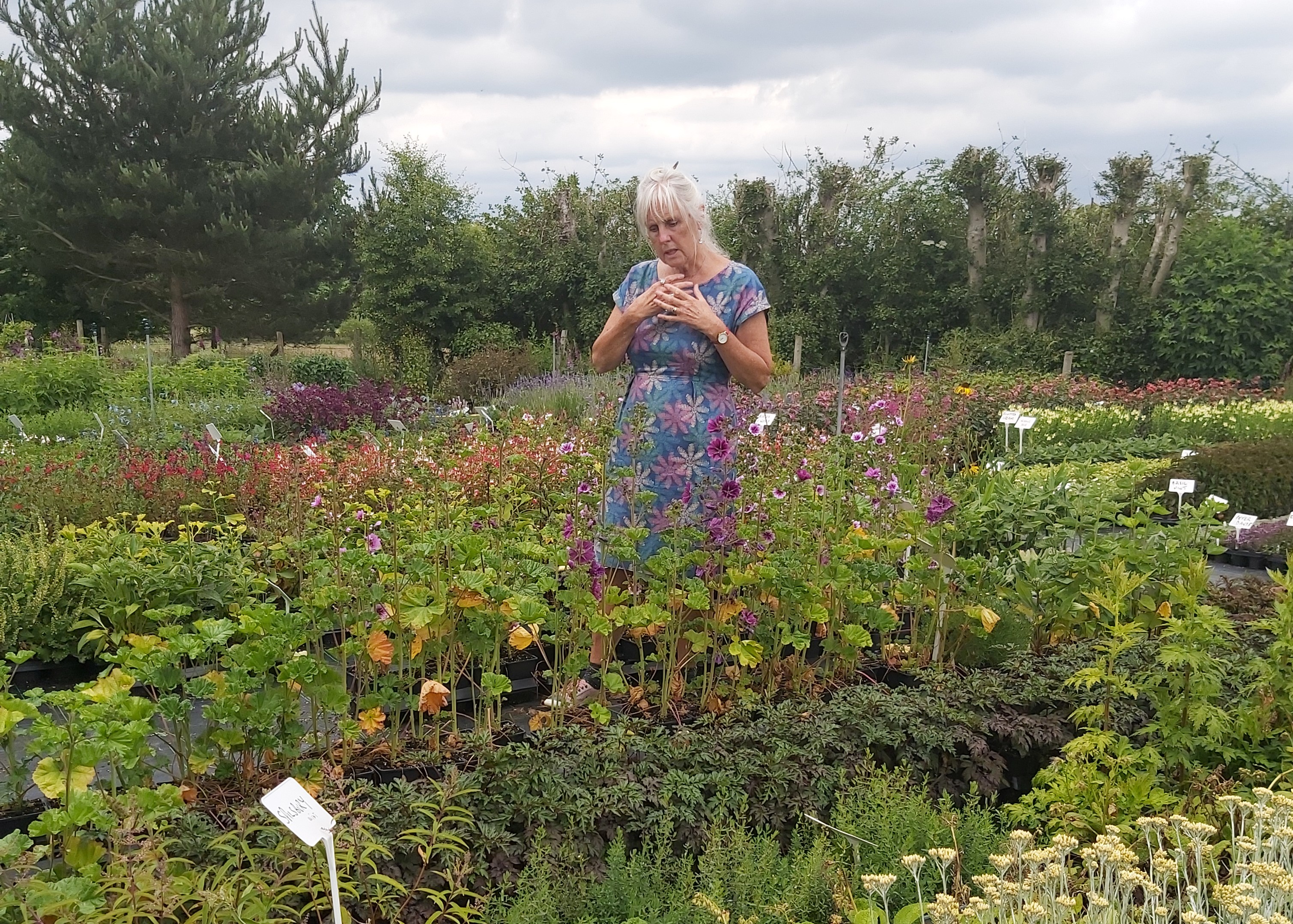 We really enjoyed seeing some of our customers at our open weekend at the Nursery on Saturday 26th- Sunday 27th June. Thank you to all those who joined us.
We were delighted to be joined by renowned medical Herbalist Barbara Wilkinson, trustee of the Herb Society www.herbsociety.org.uk as guest speaker who gave a number of fascinating talks over the two days. Barbara gave a history of the society including the fascinating life of the founder of the society Hilda Leyel who in 1927, founded the Society of Herbalists and opened her shop, Culpeper House, in Baker Street. We had a brief history of herbal medicine through the ages, a subject which you could speak about endlessly as there is so much to learn!.
She talked about some of the herbs on the nursery and in the broader landscape informing us of how to use some of these herbs as teas, and tonics. Barbara went on to talk about what these powerful plants can do for us and how we have lost the art of understanding what plants have to offer us, information which in the past would have been knowledge passed from generation to generation, our medicine cabinet would have been found in our garden.
Some of the herbs mentioned were as follows:
Tarragon - full of flavonoids, volatile oils and vitamins
Tansy - makes a fabulous insect repellent you can just hang a bunch to dry by the door great for in your kitchen!
Betony and Sage - said to be great for brain health , you can just use some the the leaves as a tea as an
Horseradish - is a great addition to tonics and the main ingredient of one known as 'Fire Cider!' sounds fantastic!
Thyme - A fantastic herb with anti-viral properties great as a tea . Use 2 heaped teaspoons in off the boil water, this is very important not to pour boiling water onto fresh herbs. Boil the kettle and wait 5 minutes or so before using.
Barbara also said that many herbs which are self supporting ( ie are tall but do not require staking ) can support you, what a wonderful idea! One such herb is Valerian said to be great for the nervous system but only for the right people this is why it is important if you want to go down the route of using herbs to heal it is important to consult a registered medical herbalist.
Finally we looked at the Elder, fokelore states it is incredibly bad luck to cut down an Elder and could be prove fatal for the perpetrator! We should 'respect our Elders' in more ways than one to be on the safe side ! A fantastic plant again for antiviral properties mainly as it can stimulate a fever