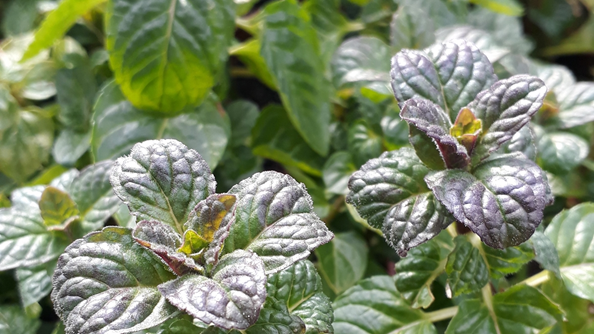 BLACKCURRANT MINT NEW ADDITION TO RANGE
Mentha'Blackcurrant'
Hooksgreen Herbs are extremely pleased to be launching Blackcurrant Mint as a NEW addition to their Herb range for the Malvern Spring Festival 2019, which opens on Thursday 9th May.
Having cultivated Blackcurrant Mint over the past year Hooksgreen Herbs will have NEW stock available at the show.
There is a hint of Blackcurrant scent over a spearmint base with this beautiful plant, which produces dark green leaves with a flush of Blackcurrant colour in early growth and a profusion of tasty leaves during the growing season. It is hardy and like most species of the mint family has a spreading habit, so is well suited to being grown in a container.
Blackcurrant Mint can be used as a garnish for Summer drinks, try adding this to a Mojito for a Blackcurrant twist on the classic. Add a fresh taste to ice creams and sorbets or use in baking to add a Blackcurrant/Mint hit. A fresh mint tea made from the leaves will be refreshing on hot summer days and an alternative to classic mint tea adding a subtle blackcurrant overtone. As a mint sauce combined with roast lamb, Blackcurrant mint adds a whole new dimension to this traditional English dish.